Scentbird Perfume of the Month September
Scentbird's Perfume of the Month for September is Dahlia & Vines by Nest Fragrances.  This perfume is categorized as a party, classic, floral scent to wear on an everyday occasion.
Save 25% off your 1st Month's Scentbird Subscription with Scentbird coupon code: SCENTBIRD 25 and try out Dahlia & Vines for your 1st month.
Main Scent Notes for Dahlia & Vines: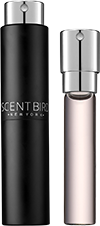 Peony, Rose, Grapes, Narcissus, & Musk
30-day supply of this scent
Size: 0.27 oz
Scentbird Subscription price: $14.95
Dahlia & Vines Scent Description:
This romantic, sophisticated floral exudes elegance, grace and luxury. Dewy daffodils, peony and rose are blended with the essence of garden vines in this feminine, floral fragrance. Dahlia & Vines is the most romantic way to complete your look for a special occasion or for every day.
Scentbird How It Works
PICK A SCENT from their extensive assortment of designer perfumes
JOIN to get a monthly supply of the designer scent of your choice in the sleek Scentbird vial
ENJOY Receive a monthly purse spray with a 30 day supply of the perfume or cologne of your choice
Try out a one month supply for just $14.95 and pick a new designer perfume scent each month.  Looking for more information about a Scentbird perfume or cologne subscription? Read our Scentbird Review.
Click here for Scentbird Coupon 25% OFF 1st Month using Scentbird coupon code: SCENTBIRD25
Let us know what you think.  Leave a comment and share you feedback with fellow subscribers.