Love Goodly Spoiler for August/September
+ 20% OFF
Love Goodly is celebrating their One-Year Anniversary with their August/September box.  Here's a sneak peak at their anniversary heart necklace and chocolate mint lip balm you'll receive next month.
Get your Love Goodly discount 20% off first box with promo code SUMMER20.
What customers are saying:
"Beautiful and thoughtfully curated…I'm BLOWN away."
– Vegan Beauty Review
Read our Love Goodly Review here.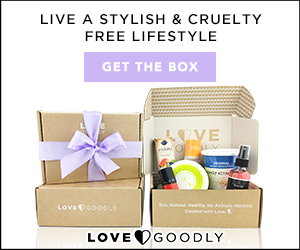 Love Goodly Spoiler August/September
Here's a preview of 2 items you'll receive in your next Love Goodly Box:
Durrah Jewelry


Custom Anniversary Heart Necklace, Value $40
This rose gold heart pendant with a chain is made out of recycled base metals and was Made exclusively for LOVE GOODLY . Necklace was designed in Los Angeles.
HURRAW! x LOVE GOODLY
Choco Mint Lip Balm, Value $4.29
Love Goodly teamed up with Hurraw! to offer this limited edition, exclusive flavor to support Farm Sanctuary and to help celebrate their1 Year Anniversary! Choco Mint is a mash up of two of Hurraw!'s best selling flavors – rich, creamy chocolate and cool, fresh mint. A deliciously delightful combo that tastes like mint chocolate chip ice cream!
Join Love Goodly's movement for a healthier lifestyle. Supporting Farm Sanctuary.
Always cruelty-free, eco, nontoxic, no animals harmed.